Bill & Ted Face the Music (2020) Review
It sure took them long enough. Like 29 years too long of a wait to see the lovable slacker duo Bill S. Preston, Esq. (Alex Winter) and Ted "Theodore" Logan (Keanu Reeves) back on the big screen. The last time we see them was, of course, the underrated 1991 sequel Bill & Ted's Bogus Journey, where the duo went to Heaven and Hell — like literally — and even encounter a Grim Reaper a.k.a. Death (William Sadler).
In Bill & Ted Face the Music, the same doofuses have become middle-aged men — both of which married to their princesses (Erinn Hayes' Elizabeth and Jayma Mays' Joanna) and even two beautiful teenage daughters (Samara Weaving's Thea and Brigette Lundy-Paine's Billie).
But Bill and Ted's once-lucrative careers as the famous Wyld Stallyns band and selling hit albums have long gone. Instead, the duo has since taken up minor gigs at bars and weddings. Then along came an unlikely visit from Rufus' (the late George Carlin, who appeared in the first two movies) daughter Kelly (Kristen Schaal), who arrived in a time machine one day. Apparently, she needs them to follow her into the future where the Great Leader (Holland Taylor) wanted Bill and Ted to write a song that would unite the world.
Unfortunately, they only have until 7.17 pm San Dimas time to save reality. With time running out, they figure out an ingenious way to steal the song from their older selves by travelling to the future.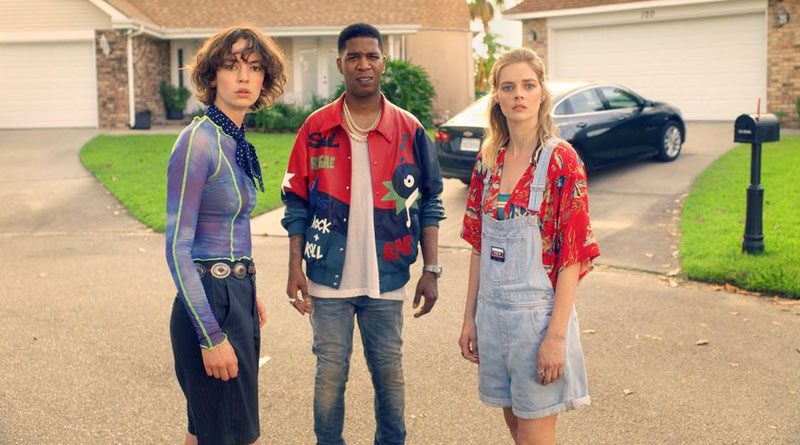 Initially, the thought of watching two actors who already in their mid-50s reprising their iconic Bill and Ted roles seem like an awkward, even desperate move. This is especially true for Keanu Reeves, whose young and nerdy look during the early years of his career may fit the role of Ted well enough.
But watching Keanu Reeves again as the now-older Ted does look and feel awkward at first. Given the fact he's been moulding himself as both dramatic/romantic actor and action star over the last few decades (movies like Speed, The Matrix and John Wick come to mind), it actually took me quite a while to get used to him playing a middle-aged doofus. At times, Reeves looks kind of forceful playing such a role, even though his onscreen chemistry with Alex Winter retains most of the same magic seen in the first two movies.
By comparison, Alex Winter looks as if he's hardly aged a day. And aside from a few wrinkles here and there, he acquits himself well enough as Bill.
As for the rest, it's nice to see William Sadler returns to his iconic role of Death. And just like the 1991 sequel, Sadler sure knows how to steal a scene whenever he made an appearance.
Franchise newcomers Brigette Lundy-Paine and Samara Weaving, who play Bill and Ted's teenage daughters are both nice additions. They even have their own side quests in this movie — a homage to 1989's Bill & Ted's Excellent Adventure, to be exact and a good one at that. But instead of bagging historical figures in the first movie, the two young time-travellers on a quest to gather past musicians, namely Jimi Hendrix (DazMann Still) and Louis Armstrong (Jeremiah Craft). Then, there's Anthony Carrigan of TV's Gotham and Barry fame, who delivers hilariously deadpan supporting turn as the killer robot sent from the future.
The plot — once again credited to Chris Matheson and Ed Solomon — may lack the inventiveness of the 1989 original and even the go-for-broke, totally bonkers 1991 sequel. Still, it has a few mildly entertaining moments while Dean Parisot (1999's Galaxy Quest) does a decent job keeping a fairly brisk pace throughout its compact 88 minutes long.
The "saving the world through music" angle, complete with themes of world peace seen in this movie couldn't be more timely enough. And more so, given our current worldwide situation of the ongoing COVID-19 pandemic, a positive-minded movie like Bill & Ted Face the Music offers the kind of goofy charm and fun as well as lighthearted vibes we need right now.
The special effects are adequate for a sci-fi comedy that costs a measly US$25 million. Veteran makeup maestro Kevin Yagher, who previously responsible for the last two movies did a great job on his magic of makeup and prosthetic effects in Bill & Ted Face the Music. This is particularly evident during the scenes where Bill and Ted appear all buffed-up as well as old and fragile in two separate occasions.
Although Bill & Ted Face the Music is far from the best in the series (that honour goes to the first two movies), at least this long-awaited third instalment doesn't end up as an obvious cash-in for nostalgia's sake.