Top 10 Best Movies of 2018
2018 is about to end and here is my personal pick for Top 10 Best Movies that I have seen over the past 12 months. Interestingly enough, most of the movies in the list are dominated by one-word titles.
10. Burning
Lee Chang-Dong's first movie in eight years since 2010's Poetry is an absorbing slow burner that embraces the power and beauty of ambiguity. All three principal cast delivers top-notch performances, with Steven Yeun of TV's The Walking Dead fame particularly impresses me the most with his deceptively quiet and creepy performance as the mysterious Ben. Then, there's the memorable sequence where Jeon Jong-Seo's Haemi slow-dancing in front of the sunset set to the jazzy tune of Miles Davis' Ascenseur pour l'échafaud. (Read my full review here)
9. You Were Never Really Here
Based on the 2013 novella of the same name by Jonathan Ames, writer-director Lynne Ramsay (1999's Ratcatcher, 2011's We Need to Talk About Kevin) deconstructs the act of violence, anger and depravity in a unique arthouse fashion where less is everything. Think of it as a violent movie where the action is more suggestive. There's even a shade of Taxi Driver-like influence here, particularly the bleak depiction of Joaquin Phoenix's role as a grizzled veteran with a traumatic past that echoes Robert De Niro's Travis Bickle character, albeit in a more indirect and fragmented point-of-view. Radiohead guitarist and keyboardist Jonny Greenwood provide an unusual musical composition that complements well with Ramsay's impressionistic filmmaking approach.
8. Annihilation
Alex Garland's long-awaited follow-up to his 2015's Ex Machina sees the acclaimed writer-director has again embraced the same cerebral sci-fi approach that is both thoughtful and visually provocative. The overall storyline adapted from Jeff VanderMeer's 2014 novel of the same name may echo an obvious shade of Ridley Scott's Alien meets Denis Villeneuve's Arrival. But much like Ex Machina, Garland continues to defy audiences' usual expectations by subverting the sci-fi trope with his metaphorical direction, infusing thought-provoking allegories like primal fear, climate change and self-destruction.
7. One Cut of the Dead
A prime example of a movie where looks can be deceiving. This is initially how I felt when I figured that Shinichiro Ueda's One Cut of the Dead is another cheap-looking, zombie-movie wannabe. But this low-budget Japanese flick completely surprises me, starting with the thrilling yet darkly hilarious 37-minute single-take opening scene. Fans of zombie and horror genre would be delighted with Ueda's technical know-how direction, delivering enough gore and graphic violence using old-school practical effects. And interestingly enough, One Cut of the Dead even took a step further by mixing the familiar zombie genre with a sharp satire that pokes fun at the genre convention itself and the indie filmmaking in general. (Read my full review here)
6. Searching
Far from your typical missing-person movie, first-time feature director Aneesh Chaganty eschews traditional filmmaking method by exploring the high-concept premise of telling his story entirely on a computer/laptop screen. From the brief but surprisingly heartfelt Up-like opening montage to the suspenseful twists-and-turns coupled with John Cho's engaging performance as the desperate father trying whatever he can to locate his missing daughter (Michelle La's Margot Kim), Searching is a well-directed thriller worth checking out for. (Read my full review here)
5. Andhadhun
This is a mystery thriller at its finest, thanks to Sriram Raghavan's successful mix of Hitchcockian filmmaking style and black comedy that gives the new meaning of seeing is believing. Inspired by the 2010 French short film L'Accordeur, the movie tells the story of Akash (Ayushmann Khurrana), a blind pianist who finds himself caught in a web of deception and murder. This is the kind of movie where the less you know, the better as Raghavan piling his movie with unexpected twist after twist over the course of its pacey 138-minute running time. Each character has its own hidden agenda, coupled with a labyrinthine and sleight-of-hand plotline that keeps you guessing even until the very end.
4. Cam
A timely psychological horror that explored the dark side of online sex work, identify theft and face-swapping deep fake technology, Cam follows cam girl Alice (Madeline Brewer in a gamely committed performance) who's been desperately trying to crack the Top 50 ranking until the sudden appearance of a doppelganger changes everything. Kudos also go to Daniel Goldhaber's engaging direction (this is actually his feature-length debut who got his start making short films) and former real-life cam girl Isa Mazzei's insightful screenplay.
3. Shadow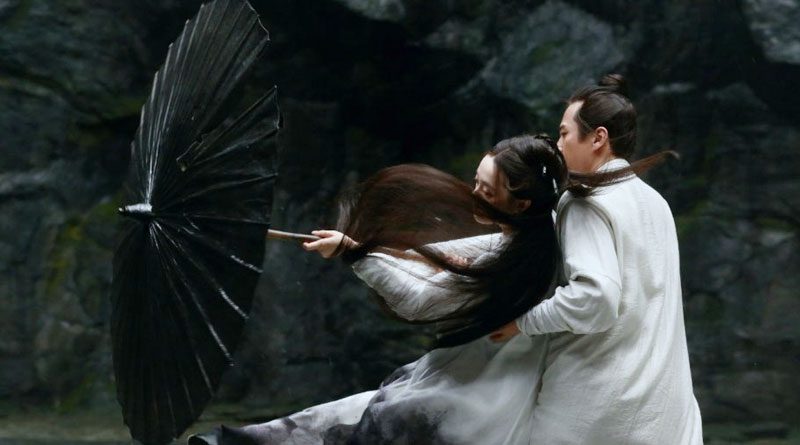 Zhang Yimou's Shadow marks the acclaimed Chinese director's return-to-form following his creative downfall in The Great Wall two years ago. Blending intriguing chamber drama with classic wuxia genre, Zhang gamely explored themes of duality and duplicity in an absorbing Shakespearean approach. The movie is also benefitted from a trio of great performances all around (Deng Chao's Commander Yu, Sun Li's Madam and Zheng Kai's King of Pei), while Zhang's uniquely monochromatic visual palette utilised from every technical aspect of the production to the elegant slow-motion action sequences are almost equivalent of watching a Chinese ink painting comes to vivid life.
2. Cold War
Not to be confused with that similarly-titled Hong Kong police thriller, this acclaimed Polish drama has already received tons of accolades since its world premiere at the Cannes 2018 back in May. Shot in a gorgeous black and white by Lukasz Zal, co-writer and director Pawel Pawlikowski — who won the coveted Best Director award at this year's Cannes Film Festival — meticulously framed every single scene as if they belong to an art gallery. And interestingly enough, Pawlikowski manages to streamline this decades-spanning passionate and heartfelt love story about two star-crossed lovers (Tomasz Kot's Wiktor and Joanna Kulig's Zula, both deliver excellent performances) in a lean 88 minutes, proving that sometimes you don't need an epic length to tell such a story.
1. First Man
It's a shame that Damien Chazelle's much-anticipated Neil Armstrong biopic in First Man was greeted with less-than-enthusiastic responses at the box office and even largely ignored in many year-end awards season. Frankly, this movie deserves better. Eschewing the traditional narrative style of a Hollywood biographical drama, Chazelle alongside Oscar-winning screenwriter Josh Singer of 2015's Spotlight chose to tell the true-story of Armstrong's (played with enigmatic perfection by Ryan Gosling) life at work as an astronaut largely in a first-person account. Even his domestic scenes are uniquely framed in a poetic Terrence Malick-like filmmaking style. Chazelle also successfully changed most of our typical perceptions by de-glamorising space travel often displayed on the big screen, employing lots of tight close-ups and POV shots that evoked a sense of claustrophobic tension. (Read my full review here)
HONOURABLE MENTIONS (in alphabetical order)
1. First Reformed
Ethan Hawke delivers one of his best performances to date as a conflicted clergyman struggling with his own faith and religion in Paul Schrader's First Reformed, a quietly devastating mystery drama serving like a parallel to his own screenplay in Taxi Driver.
2. Leave No Trace
Debra Granik's first narrative feature since Winter's Bone — the 2010 mystery drama that famously put Jennifer Lawrence earned her first Oscar nomination for Best Actress — explored a poignant look at the father-and-daughter dynamic between Ben Foster's Will and Thomasin Harcourt McKenzie's Tom, who live their life off the grid. Both actors deliver solid performances but it was Thomasin Harcourt McKenzie, who mostly stole the show as Will's teenage daughter.
3. Mission: Impossible – Fallout
Writer-director Christopher McQuarrie has done it again in his second shot directing another Mission: Impossible movie (this would be the sixth in the series) following the successfully Mission: Impossible – Rogue Nation three years prior. Although the movie lags in the first act, McQuarrie manages to maintain an overall consistent pace over the course of its 147-minute running time. The action is top-notch, with every setpiece from the bathroom fight to the motorcycle chase and helicopter pursuit all thrillingly staged to visceral perfection, making this a must-watch on the biggest screen possible. The labyrinthine plot is just as fascinating, with McQuarrie throwing a shade of his Usual Suspects-like deceptive narrative style with several clever callbacks from Brian De Palma's first Mission: Impossible movie. Then, there's Tom Cruise, whose committed performance as Ethan Hunt remains the heart and soul of this enduring spy franchise. (Read my full review here)
4. Sicario: Day of the Soldado
The sequel that nobody actually asked for and yet, this is a rare case that it surprisingly works. Well, at least for me. Although original director Denis Villeneuve is nowhere in sight, Italian director Stefano Sollima proves to be a worthy replacement. He added his own personal stamp in this sequel, showcasing enough visual flair (the elaborate setpiece involving a convoy ride on the dirt road quickly comes to mind) while Taylor Sheridan's screenplay has again displayed an intriguing angle of law enforcement from both sides of the border between the US and Mexico. The recurring cast is another major reason here and even though Emily Blunt isn't featured this time around, both Josh Brolin and Benicio Del Toro carry their roles well. (Read my full review here)
5. Unsane
Steven Soderbergh's low-budget psychological thriller is particularly notable for its unusual visual aesthetic shot entirely on an iPhone 7 Plus. The plot, which blends a corporate satire on insurance fraud and American private healthcare with a paranoid-thriller undertone, is particularly intriguing to watch for. Even though Jonathan Bernstein and James Greer's screenplay tends to stretch its believability, Soderbergh's efficient direction and Claire Foy's central performance ensure this genre experiment is far from a cinematic gimmick of an iPhone-shot movie.