Wendell & Wild (2022) Review
The arrival of Wendell & Wild should have been a cause for celebration. Besides, this stop-motion animated movie marks the long-awaited return of Henry Selick after a 13-year hiatus since 2009's Coraline. In case you are wondering why it took Selick this long, it's all because of a particular project called The Shadow King. Selick was enlisted to direct the movie back in 2009, which would mark Pixar's first foray into the world of stop-motion animation. But it didn't work out as planned due to creative differences and overbudget issues, causing Disney to scrap the project altogether — a result that Selick almost wanted to quit filmmaking.
Having seen some of his impressive stop-motion animation movies including The Nightmare Before Christmas (1993) and James and the Giant Peach (1996), I was actually looking forward to Wendell & Wild. And that is not all since his latest stop-motion animated movie also features the first collaboration between Selick and Jordan Peele and Keegan-Michael Key of Key & Peele. What a dream team having them aboard, especially with Peele serving not only as a co-star but also one of the screenwriters and producers as well under his Monkeypaw Productions banner.
Well, if only Wendell & Wild is as good as it sounds. The story actually has a huge potential and it goes like this: Following a tragic accident that killed her parents, Kat (voiced by Lyric Ross) has since lived her life blaming herself for their death. The past has turned her into a sullen and rebellious person growing up as a 13-year-old teenager, where we see her end up at a boarding school in her hometown of Rust Bank run by Father Bests (James Hong) and Sister Helley (Angela Bassett).
From there, she gets to know her fellow students including a trans boy named Raúl Cocolotl (Sam Zelaya) and Siobhan Klaxon (Tamara Smart), whose parents Lane (David Harewood) and Irmgard (Maxine Peake) are scheming wealthy magnates responsible for causing Kat's parents' root beer factory burned to the ground.
The titular characters Wendell (Keegan-Michael Key) and Wild (Jordan Peele), two rambunctious demon brothers from hell enter the picture after they find out Kat have a prominent teeth-like marking in one of her hands that her a chosen one a.k.a. Hell Maiden. We later learn that she can summon them to Earth if she helps them steal a demonic teddy bear known as Bearz-a-bub, they would bring her parents back to life.
Henry Selick, working from a screenplay which he co-wrote with Jordan Peele (it was actually adapted from Selick and Clay McLeod Chapman's unpublished book of the same name), may incorporate potentially resonant themes of grief, emotional trauma and personal demon. But the execution is surprisingly such a bloated mess that I have a tough time trying to root for Kat's journey. And if that's not enough, Lyric Ross's flat voice performance as Kat doesn't help either. The less said about Wendell and Wild the better because even with this movie being named after them, they are actually more of comic-relief sidekicks and I barely find them funny. The rest of the characters are just as forgettable, despite a would-be promising ensemble cast like James Hong, Angela Bassett and Ving Rhames, where the latter plays Wendell and Wild's monstrous demonic father Buffalo Belzer.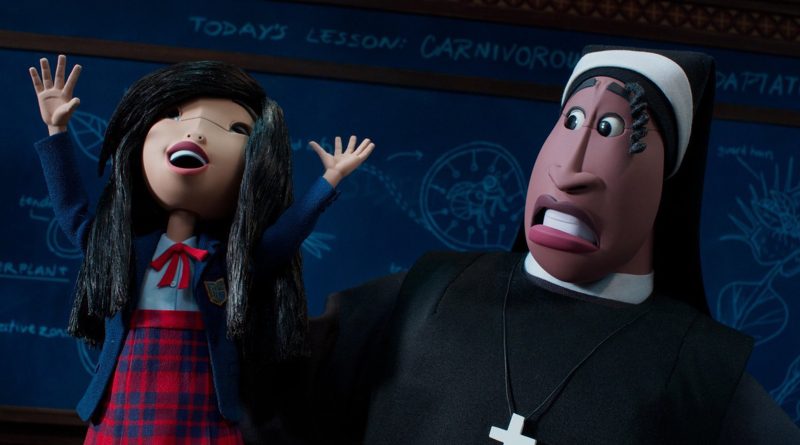 The whole story is the biggest problem here, where the word "overstuffed" is best described for Wendell & Wild. Because it sure looks to me that Selick and Peele's adapted screenplay wants to cover everything at once beyond the aforementioned themes. This includes injecting social commentaries on private prisons and capitalism all wrapped into one to the point it loses focus and becomes disjointed. Conflicts come and go and things are eventually resolved in a hasty manner, which can be evidently seen during the increasingly disappointing third act.
Technically speaking, the stop-motion animation has all the kooky and whimsical visual aesthetics that defined some of Selick's best works. And for that, he never lost his touch regardless of his design of the characters and backgrounds. Too bad it just isn't enough to overcome most of the shortcomings in Wendell & Wild.
Wendell & Wild is currently streaming on Netflix.